The most complex of the Geuer specialist disciplines
The planning and logistics for a laboratory relocation require a higher level of training than any other company move. Because for the transportation and storage of sensitive devices, hazardous goods and laboratory contents apply the highest safety standards. Laboratory relocations often include many years of research and sensitive research results. With the experience of many extensive laboratory moves, Geuer is playing in a league of their own.
References similar to your laboratory relocation project.
Our laboratory customers include, for example, research institutes and offices as well as companies from biotechnology, pharmaceuticals, medicine and life sciences or manufacturers of laboratory equipment. We offer you full service for removals according to GMP standard in compliance with all quality standards. Including requalification of laboratory equipment after relocation.
Our own experts analyse your requirements.
A team of hazardous materials experts and professionals establish a database for you encompassing the entire relocation plan for your laboratory. Including, should you so desire, dismantling and later assembly of technological equipment. This includes complex installations of any size, such as centrifuges and all types of chromatographs.
Whatever laboratory is supposed to relocate, our references will show for sure an example that is similar to your own project. Nationwide and beyond Germany's borders, we deploy our experts at your laboratory site, until all rooms are turnkey ready for moving in. Under circumstances we will mainstream ourselves into your workflow, so that there will not occur any longer downtimes of your personnel or equipment, even during the relocation process.
For the transfer of your laboratory we do not only organize the transport, but also arrange the on scheduled uninstallation of laboratory devices in cooperation with manufacturers. Easily damaged research results or sensitive laboratory material and devices experience a professional handling from our staff, which is trained to work with laboratory equipment. Even the handling of chemicals and laboratory apparatus is nothing new to our experts. Furthermore are the transportation of clean rooms and high-sensitivity devices and the relocation of research objects part of Geuer's daily business.
Geuer customers include research institutes and administrative bodies as well as biotechnology, pharmaceutical, medical and life science companies or manufacturers of laboratory equipment. We offer full relocation services in accordance with GMP norms and compliance with all quality standards. Including recertification of laboratory equipment after the move.
Maximum safety with optimum transport.
Our fleet is equipped for laboratory removals of all sizes. Our drivers have hazardous goods transport licenses in accordance with ADR / GGVS and are familiar with all the regulations.
We use special boxes for transporting highly sensitive or sterile equipment, partly of our own manufacture. Shock and tilt-proof transport containers with ADR approval for biological, chemical or radioactive materials are just as important as special coolers and temprature controlled systems.
Laboratory logistics 
There is no way around it for safe processes.
Sensitive research results or sensitive laboratory material and equipment experienced by us professional handling of our staff, which is trained exactly on the handling of laboratory materials. Even the handling of chemicals and complex laboratory equipment is not new territory for our technical staff. Transportation in clean rooms or of highly sensitive laboratory equipment and the relocation of research objects are also part of the day-to-day business of the moving world of Geuer.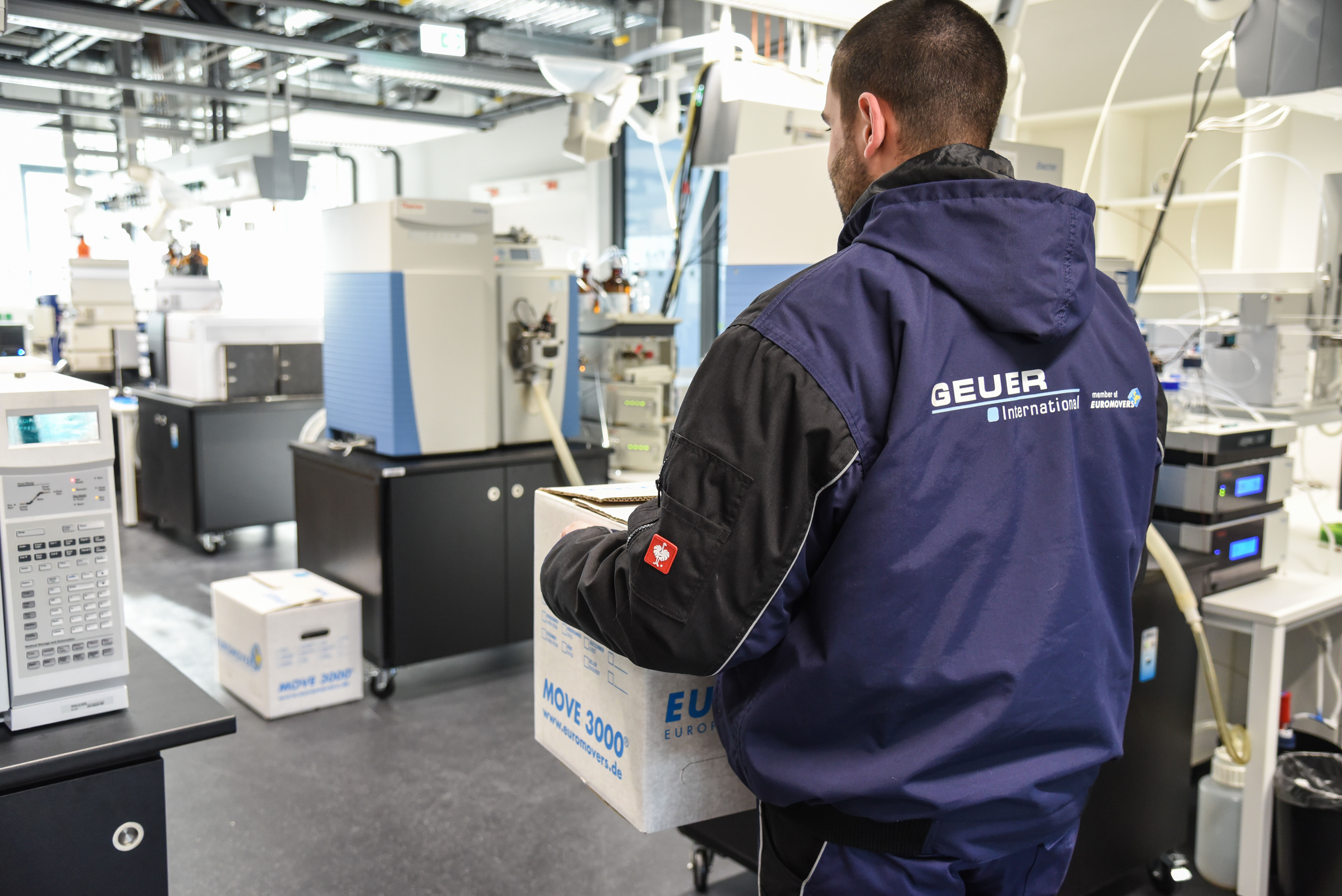 The laboratory relocation takes place at Geuer only under the highest safety precautions. No moving goods are moved without it being clear how, where and with what they can be transported. The need for security is equally high for the removals and staff. An insurance that we offer to our customers provides protection and security from the worst. At Geuer we are proud that this has not been necessary before and believe that it speaks for our first class service.
When we move a lab, only our skilled workers with special training and additional qualification come to action. Sensitive machinery or hazardous substances and chemicals should not be transported without sound knowledge. That is why we have trained our staff for the work in the laboratory. Rely on the know-how of our staff and trust that we are well versed in the subject of laboratory transport.
When you move to a small apartment planning the move is a comprehensible project without much strategy and planning required. In a laboratory, it is quite the opposite. An unplanned laboratory move often ends in disaster for the staff and research objects. Therefore we take the time from Geuer to plan your move professionally and to carry it out in detail. The causal chain of an accident in a laboratory transport is long. Avoid this and respond to the advice of project leaders, relocation leaders and transport workers.