Business relocation
No relocation project is like any other.
When an entire company relocates, individually developed structures are transplanted. There is no such thing in this case as an off the peg removal plan. Therefore, the sooner you involve us in your objectives, the more comprehensively our experience can contribute to a common plan.
Relocation planning / coordination
The move of many employees, workplaces, machines and devices needs to be planned and coordinated. For this we have founded our own planning department. Save downtime and training with perfectly coordinated processes.
Smooth implementation

In addition to the exact relocation planning, a smooth implementation is just as important, so that the production processes of the customer are not affected. For the transport of extra heavy or technologically sensitive systems, we are well trained and equipped.
After the relocation
Our Facility Management Department founded to take care of our customers before and even after the move. These range from the broom-clean handover of the old property, to the commercial supervision and control of all trades for the new premises.
We plan your solution step by step
The first step is to electronically record your removals goods. On this basis, we create a complete set of removals logistic with detailed planning and cost planning. Customised project- and process planning follow. They are so designed that downtime for your business is kept to a minimum.
We realize company moves of all kind all over the world. Therefore, Geuer looks back to 30 years of experience as moving company and planer of industrial relocations. The Geuer International GmbH is always developing since the early eighties. Out of a small business for private moves and furniture transports grew a midsize company for business relocations. Today, the company employs around 100 people for moves and transportations of companies of all industries.
The service offers from Geuer are growing continuously and cover all relocation attendances. We transport workstations from production, administration, research and many other departments on a daily basis.
But with Geuer you get more than just a transport. We also highly concern ourselves with the moved items as well as all connected special requirements like the installation or checking for functionality of all devices after the transport. Make your new location to a full-value asset with a relocation from Geuer and enjoy the advantage of a perfectly planned move or even a whole location shifting. That means little to zero downtime and no chaos for your employees while getting used to the new location. Critical points of a relocation like the familiarization of the staff to the new working place or machine failure will be minimized with the expertise of Geuer and are usually not happening at all. Ask our experts about the fitting relocation package for your company. We are pleased to provide helpful tips to let your move be performed smooth and safely.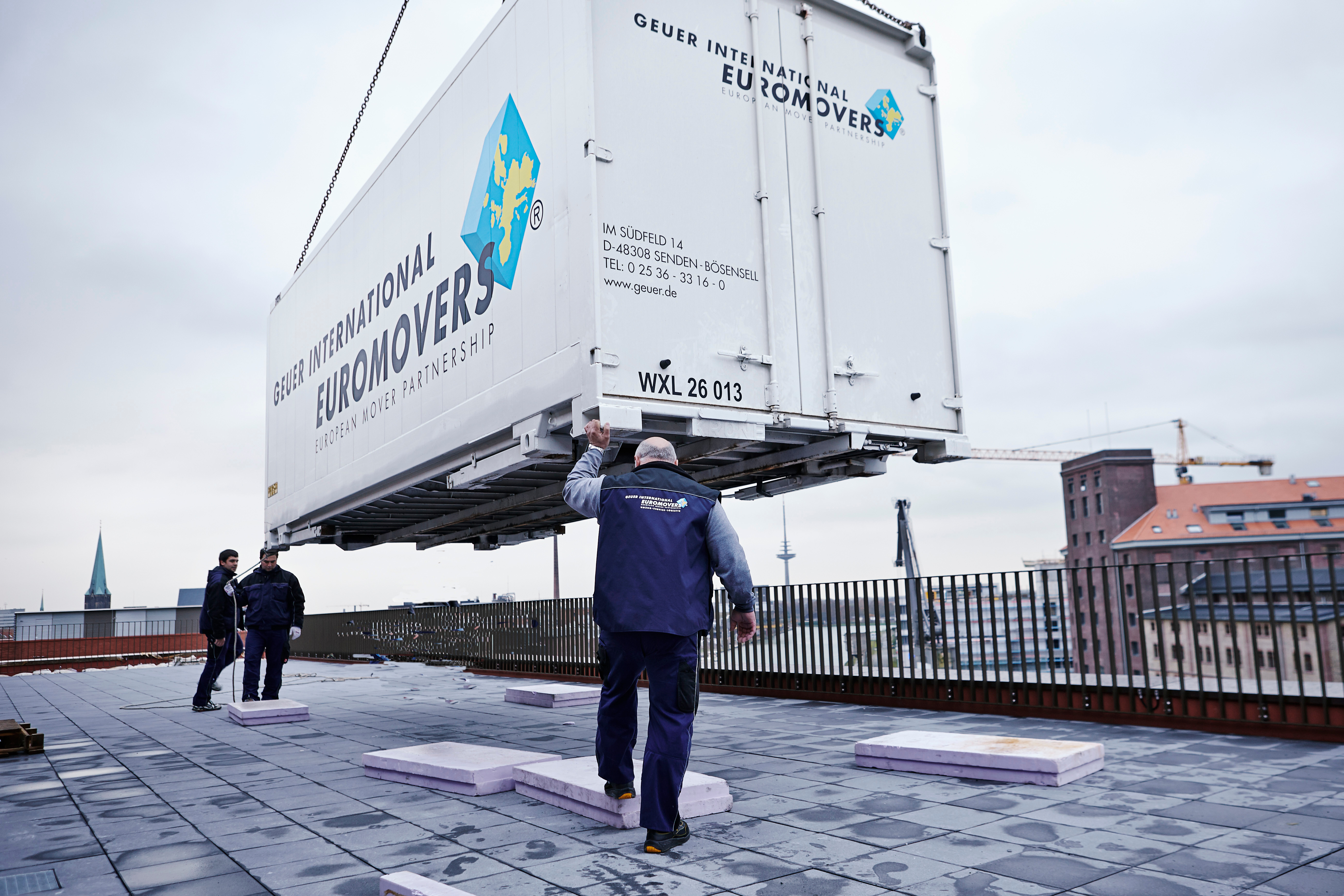 Professional transportation of sensitive EDP
The goods of company relocations mostly consist usually mostly out of EDP-devices and machines. For the sensitive handling of EDP-systems, like servers and terminal devices, Geuer appoints a team of EDP-specialists. Our personnel is trained for the wiring of workstations and for the transportation of server systems and ensure the functionality of all devices at their new location. Often our customers are happy to only have to push the start button and everything works perfectly. Because our EDP-team reinstalls everything, just as they uninstalled it before at the old location. The wiring of lamps, computers and ground powerstations is included.
Exact relocation coordination
The checklist for planned company relocations can be long and confusing, so mostly only experts are able to keep track. The exact coordination of every technical crew, during a company relocation, needs next to a professional project manager much more than a regular transport service provider. Thus provides Geuer for your business move a specialized team of room planners, logisticians, personnel- and resource planners. Every turn or change of the relocation planning is monitored by a project manager and will be conferred with the correspondent department of your company. All machines, devices and furniture as well as EDP-systems are under a digital assisted observation by our experts and can be redisposed at any time, due to our compilation. Changes within the rooms will be captured by our room planners and can be repatriated to single objects or workstations. This gives you the chance to always compare the old and new location. Rely on the expertise of our planning and safe time, costs and resources through far-seeing logisticians
Care and forethought, to the last detail.
For your company relocation we use modern transport vehicles, optimal packaging material and highly trained personnel. Through flexible timing, we optimise our relocation activities to the workflows of your company. Of course, this means we also pack for you overnight or at weekends.
Naturally, we can accommodate individual requests to the last detail. Because the Geuer service range is far more than just a freight forwarding company. For us, comprehensive relocation of a company means: we organise and coordinate everything to make sure your operation immediately starts running smoothly again at the new location. From relocation consulting through logistics and expert tradesman on location to registering a change of address at the post office.
High-value references
Do not forget about Geuer's wide range of references with similar projects. You have recourse to this experience for your own relocation project. With its extraordinary experience and quite a number of realized company moves developed Geuer to a holistic consultant, planner and implementer of big relocations. Advice often begins at the status quo of our customer and includes not commonly a conversation with landlords, help with planning at the new address and tips for resignation from the old location. The planning contains everything that affects the actual relocation. From the first day of the relocation to every change in schedule and to reoperations of a move.
Our customers appreciate the responsible handling of frequently sensible goods and are pleased to receive just the performance they expect from a professional forwarder. Mostly they even go beyond this. Because next to the actual move, offers the on-site facility management department from Geuer every service around this topic to its customers. After the relocation process, we usually are so used to the building that the services of Geuer show great synergies afterwards.
Taking advantage of early advice
The integration of Geuer to your company relocation is early on profitable. Because immediately after the decision of the upper management to move the company to a new site, begins the stage to make important decisions for an ideal relocation process. Thereby you can count on Geuer. The consulting department of Geuer International is specialized to consult companies beforehand. In an ideal case we concern ourselves with all important aspects in advance and accompany you from the planning stage to the actual implementation of your move. Since the better the preparation for your company move is, the better will be the processing. Get advice from experts who are not only able to plan complex and high-class relocations, but can realize them too.
Moving Step by Step
4-6 Month before Moving:
After deciding to move, it is important to take some organizational steps at an early stage. This includes, for example, the old tenancy to terminate early, to ensure that all notice periods are met. It is also advantageous to obtain offers from moving companies in advance, which increases the chance of a relaxed and smooth move. The planning of a company move is very complex, which is why the advice of experts should play a crucial role during the preparations. The next step is now to set the move date and to inform the employees as well as customers and business partners. Also, the information about the upcoming move including new address should be sent early to tax consultants, lawyers, the tax office, insurance, etc. If necessary, the entry in the commercial register should also be changed. In addition, it is already recommended to hire craftsmen, painters, a cleaning company, installers / technicians and waste disposal companies. Furthermore, it makes sense during this period to create a move plan in which is determined what moved and what should be disposed of.
Cancel old lease
Obtain offers from moving companies
Relocation advice for the planning of the move
Define relocation date
Inform employees
Inform customers and business partners
Information on moving to: tax consultants, lawyers, tax office, insurance etc.
Change entry in commercial register
Assemble craftsman, painter, cleaning company, installers / technicians, waste disposal companies
Have a relocation plan prepared by the relocation manager
2-4 Month before Moving:
Important actions during this period include clearing out workstations, creating inventory lists, and a set-up plan. In addition, if necessary, the collection of bulky waste should be organized. To make sure that no post is lost, it is advisable to order a forwarding order from the Post. Also, now is the time to initiate necessary renovation measures in the new company premises.
Clearing out the workplace
Organize collection of bulky waste
Create inventory list
Create a facility plan
Order forwarding order from Post
Renovate new / old company rooms
3-4 Weeks before Moving:
The next step involves the re-registration of telephone and Internet, so that a continuous accessibility can be guaranteed and there are no delays or failures. Also, dates for the key handover plus handover protocol are to be agreed.
Change phone
Deadline for handing over the keys, agree on handover protocol
2-3 Weeks before Moving:
Going on, the change of address has to be organized. In order to diverge on good terms or to lay the building block for a new good neighborly relationship, it is advisable to inform old and new neighbors in advance about the move. It is also crucial to check and document the condition of all rooms in order to avoid unpleasant surprises. Cleaning the new offices will make it a lot easier to get used to the new work environment after the move, and relocation will also be easier.
Organize address change
Inform old and new neighbors about moving
Check and document the condition of the premises
Clean new company premises
1 Weeks before Moving:
Now it is almost time, the move date is at the door and moving boxes must be delivered. Labeling ensures that all boxes arrive at their designated location. Now it is time to take care of the contracts for the supply of the new office (electricity supplier, gas etc.)
Have moving boxes delivered
Allocate labels (relocation control system)
Sign up for new office supply
The Moving day has arrived:
Moving day has arrived. On this day, it is important to keep a detailed handover log and to check the new offices for possible previous damage. The old offices have to be cleaned and finally the keys are handed over.
Unsubscribe supply of the old offices
Transfer protocol
Check new offices for damage
Clean old offices Keys
After Moving:
Even after the actual move, there are a few things to keep in mind. This includes changing the imprint and the contact details on the company website. It is also time to collect and prepare bills and receipts for the tax consultant. After moving, a certain period of adjustment is always necessary. Here's the best way to get support from a facility manager.
Change imprint and contact details on the company website
Collect and process invoices and receipts of the move for the accountant
Order rework from Facility Management