Office relocation
We relocate furniture and infrastructures.
Relocating your office workstations does not just involve the transportation of desks, filing cabinets and office chairs. Particularly important is the rapid transfer of workstations that are to start functioning again immediately. For such missions, Geuer is exactly the right removals firm. Because with us, your transportation and complete services derive from a single source.
Professional planning for smooth office relocations.
Ahead of your company relocation, we plan all the necessary steps in detail. The result is a personalised package, which your dedicated personal Geuer contact is then responsible for coordinating. This includes not only the dismantling and reconstruction of all office facilities, but on request also complete services for restoration of all functionalities.
Everything is documented in the moving guide.
The entire office inventory is systematically recorded in a computerised database, loaded and transported. Thus targeted access is possible at any time, even during the move. With our experience of hundreds of office moves, we reassemble your infrastructures at the new site quickly, cleanly and reliably.
Exclusively professional boxes, roll containers, security boxes and new environmentally friendly packaging materials are used. Your Geuer team naturally always has the appropriate special tool for your furniture systems on hand.
Everything starts with capturing of the amount and kind of your goods that need to move. Therefore one of our experts takes a look through your premises. Based on that, you will receive an individual offer that matches your visions and demands. You will decide which performances and services will be part of your offer. Out of our modular service portfolio you choose comfortably what you need. Naturally we are pleased to advice you thoroughly what is necessary for your relocation and what might not. If you decide to choose Geuer, the planning and coordinating of complete technical crews for your relocation from our experts for move management. This includes analyzing the destination for every object that is supposed to be relocated. Every item gets its own guideline to make sure that it is clear where it belongs. The relocation day begins and our staff performs your move. Thereby, is our personnel well trained in handling furniture and transportation tools. Often extensive EDP-systems are part of an office interior. Also for that Geuer only appoints professionals. We take care of your workstations just as you left them and rearrange the same way at the new location. This includes the wiring of telecommunications facilities and the transport of complex server systems.
In an office mostly grew very individual cultures and structures. We adapt ourselves to that and are pleased to help you to rebuild your business at the new site just the way it was, or according to the wishes of our customers. Geuer also offers advice and support for optimization. Our experts will reinstall all your furniture to make you feel as good, or even better as you felt at your old location.
Do not underestimate the impact of relocations on your personnel and help your staff to feel immediately comfortable at your new address. Geuer will gladly help you with that. A badly implemented relocation can cause a confused orientation phase, block your employees in their work flow and might cost at the end more than a well performed move. From Geuer you would not receive a relocation service without a sufficiently planned logistic. Everything intertwines. Packaging, transportation and complete reinstallation will be performed by our experts. You will be surprised to see how nice it can be to just push the start button after your move to be ready for action. Size and amount of your premises doesn't matter to us. Geuer's references will surely show a comparable relocation project as yours. From single offices of freelancers up to large office blocks of important global players, we can count everyone to our satisfied customers. For our business customers we assume facility management tasks and guide our customers over many months after the relocation.
Apropos, Geuer is a longstanding mover for office relocations. Already in the nineties' the company, back then located in Münster, got specialized for business moves. The formerly moving firm for private relocations early developed to a specialist for moves of office buildings and large complexes. Even today, the owner-managed Geuer Internatonal GmbH accomplishes high class office relocations.
Perhaps you will use the opportunity of your move for the streamlining of your files stocks? Talk to us about your specific possibilities for archiving documents and media professionally, managing them or having them disposed of.
Contact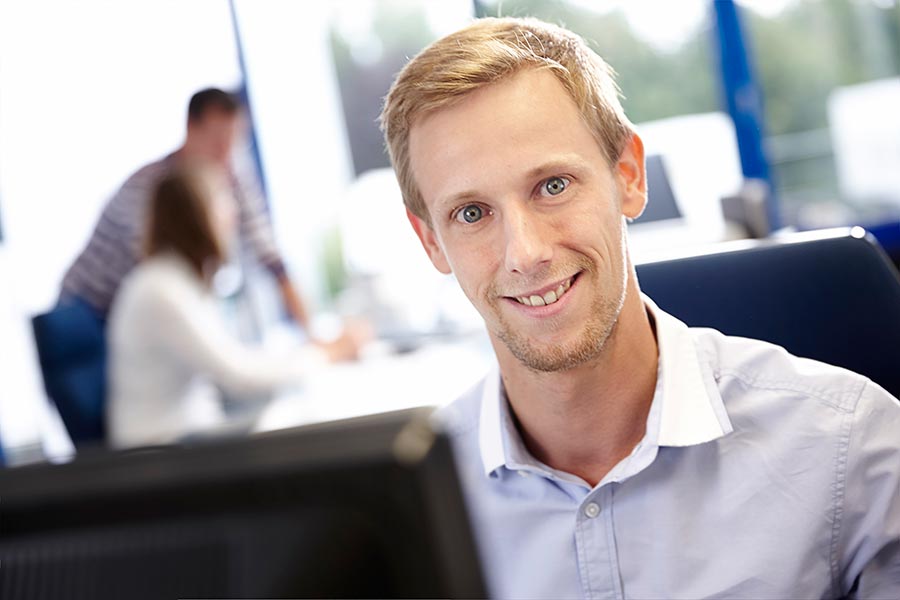 Your specialist
Markus Wagner
Company relocation and site relocation

MarkusWagner@Geuer.de
Tel:  +49 (0) 2536 3316-13
Fax:  +49 (0) 2536 3316-25
Callback service
Enquiry