Moving guide
A few tips and tricks at a glance.
With the right preparation and the right moving partner your move will work out fine. If you so desire, Geuer can take care of everything. If you want to contribute to your own moving preparations, we have a few tips for you.
Tidy up and save costs.
A forthcoming move is a good opportunity to look through the cellar, loft, and cupboards. Get rid of the things that you no longer need and take them to the recycling centre. Well-preserved things are also accepted in many cities by social institutions. Every box less reduces removal costs.
Coordinate dates in time.
Every painter, every tradesman and we ourselves can only carry out as many contracts as we have qualified and trained professionals available. The earlier you book, the better the chances your desired date can be met.
Pack very personal items in advance.
You should pack up some things before the move itself. Be sure to pack personal documents such as identity card, passport, etc., credit cards, debit cards, cheques, etc. in a pocket, a briefcase or such like and take them with you personally. Also valuables such as coin collections, stamps or cash are always taken by the customer.
A really good idea.
Also think of things like the transport lock for your washing machine. Should this not be available, please contact the removal personnel. Our employees will then otherwise secure the drum as well as possible for transportation.
A room plan for your new home.
Think in time about how you want your new home is to be set up, and where the various items of furniture should be placed. Draw up a furnishings plan for each room of your new domicile. This saves a lot of unnecessary questions when unloading and our staff can work quickly.
We will gladly advise you and draw up furniture and floor plans of your new living quarters.
Tips for dismantling and assembly
We offer our professional installation service for the dismantling and assembly of your complete equipment and furnishings. If you want to perform the work yourself, please pay attention to a few basics.
Unhanging, hanging, attaching.
Before loading all the lamps, curtain rods, pictures, mirrors and wall decorations should be removed and packed or be prepared for transport.
Check the condition and construction type of walls and ceilings in your new home. Especially in older buildings or where there are plasterboard walls, special fixings may be required for attachment of wall shelves, ceiling or wall lamps.
Furniture dismantling and assembly
When dismantling and assembling residential furniture, please pay attention to a few basics. Get a clear impression of the furniture before dismantling it. A small sketch or a photo can be very helpful for assembly. When dismantling the wardrobes, label each cabinet piece in order of dismantling.
Although sides and doors often look alike, they should be assembled in the exact same order. You thus save yourself a lot of time later on looking for the right parts when assembling.
Ensure stability.
Very few floors are perfectly flat. When assembling cabinets, built-in wardrobes, etc., you should always have some stabilising material handy to compensate for slight unevenness.
Some pieces of furniture such as folding beds, narrow shelves and basically all the furniture in children's rooms should be secured to the wall with an angle iron to prevent tipping.
Book tradesmen early.
For some jobs connected with the move, using a specialised tradesman is really recommendable. This may be for repainting, installation activities, television technology and many more tasks.
A suitable company should be found in time for this work and a date agreed upon. For many of these services, we work with suitable companies and can put you in touch you with a reliable professional.
Contact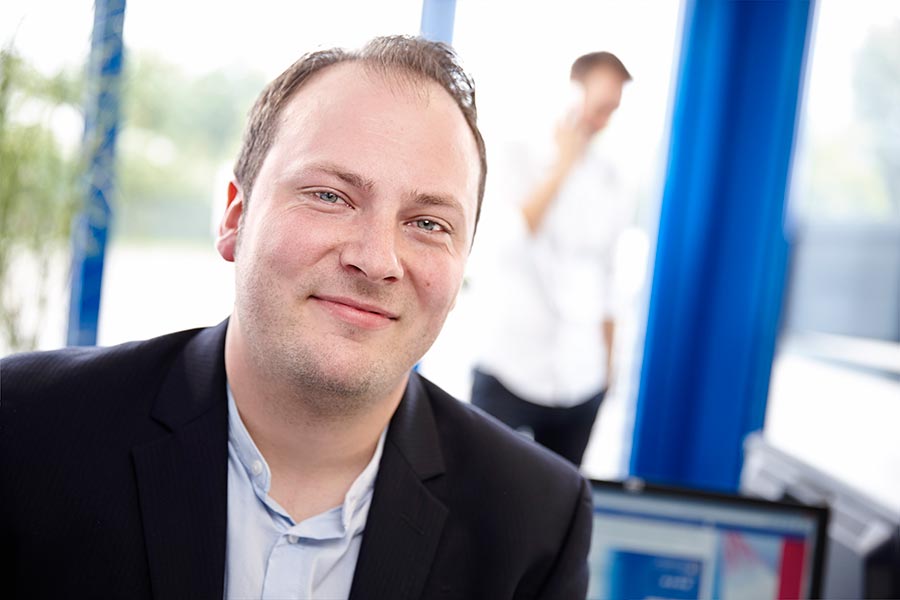 Your specialist
Jan Vetter
Private Removals and International Transport

JanVetter@Geuer.de
Tel:  +49 (0) 2536 3316-66
Fax: +49 (0) 2536 3316-25
Callback service
Enquiry